Seamless Organisation
The Jibbon is a thoughtfully created, minimalistic key organiser that eliminates unnecessary bulk and protects your phone and other valuables. It encompasses your keys with high-quality Italian leather and is made to last.
Customer Reviews
17/09/2020
Nathan M.
United States
Quiet, Organized, Refined.
From a standard key ring, to a keysmart, to a Jibbon. The evolution of my key organization follows form, function, and quality.
17/09/2020
Jesse I.
Australia
Better than expected
I tired the Orbikey but Jibbon is leaps and bounds better. Love the lock mechanism. Easily the best key organizer available!
11/09/2020
Mandy .
Australia
Graduation Gift 2020
What an amazing Graduation gift for my son. When it arrived it was better than I thought it would be. Would highly recommend JIBBON.
21/08/2020
Catherine
Australia
Designed elegantly
The design of this key organiser just works like it should beautifully. Set it up once and I can rest assured that my keys won't come loose EVER. And if I ever need to change my keys, it's super easy to do. The leather is also top notch quality. I backed the project in the early days and came back to rebuy more as gifts for loved ones. I can't recommend this beautifully engineered and designed product enough. More colours please?
10/08/2020
Troy
Australia
Elegant. Simple. Perfect.
I have been using other key organizers and I recently received my Jibbon key with accessories. They are a much better quality and much easier to use. The texture if the leather is fantastic and the ease of use is by far my favorite on the market. I will 100% be recommending Jibbon to my friends and family and probably ordering more for work/other keys.
16/07/2020
lovin
Australia
LOVE IT!!!
I purchased the Jibbon key organizer during the kickstart and waited for few months (six) to check the quality of the product. I've not had any single issue with it. I'll not hesitate to recommend this product to my friend and family.
13/07/2020
Logan F.
Australia
Brilliant piece of kit
This is a fantastic key organiser. Beautifully made & easy to use. No annoying spacers to muck around with, it just works. Love it.
13/07/2020
Trieu
Australia
Very high quality
I'm please with the high standard quality of the product. If you looking for "Apple quality" in key organiser, this is the one. Highly recommend. All the features and designs are thoughtful and and user oriented.
30/06/2020
Michael P.
Australia
Exactly what I was looking for
If you're looking for something to organise your keys and stop them jingling in your pocket, this is a fantastic option. It looks and feels great, was super easy to set up and the build quality is immaculate. This is my first key organiser, but straight away I knew it was exactly what I was wanting and I'm really glad I went for this one over it's competitors.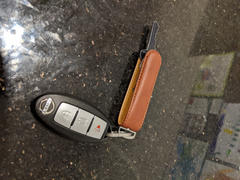 26/04/2020
Will
Australia
Great product
Best key organiser on the market. Would definitely recommend. Great quality leather and extremely easy to use.