Seamless Organisation
The Jibbon is a thoughtfully created, minimalistic key organiser that eliminates unnecessary bulk and protects your phone and other valuables. It encompasses your keys with high-quality Italian leather and is made to last.
Customer Reviews
14/11/2020
MAX A.
Canada
Smart Design
I've always been the type of guy who spends way more time researching a product before buying it, than it would be considered as "reasonable" by an ordinary person. And it wouldn't be different even for the simplest thing, a key organizer. I actually though I wouldn't buy any of the key organizers available on the market, because none of them seemed to (reliably) fix the issue with the parts coming loose with time. But Jibbon Key design solves that in a very smart way, and even though it's more expensive than its competitors (especially if you live outside Australia and have to pay for shipping), I advocate spending more for good quality products that will last, and this is one of those cases. I will still give it a five-star review even though I think the screwdriver tip on the multitool is bigger than most screws a normal person (in my opinion) would sporadically find loose and have to retighten (meaning: you probably wouldn't casually retighten your fridge screws. It would probably be something smaller than that). However, I wouldn't want a thin and fragile tip either, so it's ok. I honestly think this is a well though out, good quality, product. Nice work guys!
09/11/2020
Liem N.
Australia
Better than orbit key
Having had an orbit key the quality on the Jibbon is notably more supple for the same price point
09/11/2020
Lillian J.
Australia
Amazing product
Love my key organiser! So handy and useful. Bought the multitool also and have used it almost everyday since! Beautiful design, so sleek and sexy.
06/11/2020
Ko S.
United States
Great product
I transitioned from a similar product from a different manufacturer. In comparison Jibbon is much smoother. And by the looks of it, with Jibbon the keys will not loosen over time, which is a big problem I had with the other product; I had to tighten the screw very frequently which was somewhat frustrating. I love the leather as well. I've only just gotten it but it looks very sturdy and hopefully it will last for a very long time.
17/10/2020
Titus W.
United States
High quality, fashionable, and most importantly, functional
I've tried a lot of key organizers over the years. Some have gimmicks like magnetic attachments, or the sizing was just off or the screw would get loose over time. I think the Jibbon is a bit pricey, but it is a quality piece of kit. It looks great, feels great, and it works really well. I think the size is perfect and the screw mechanism is easy and doesn't get undone. Other key organizers do come with spacers, which I would've appreciated here, but overall can't recommend this enough!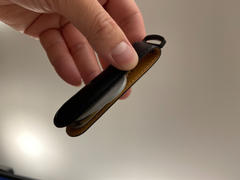 13/10/2020
Shadi M.
Germany
09/10/2020
Daniel B.
Germany
09/10/2020
Jarvi A.
Australia
09/10/2020
Brian T.
Canada
Good Concept And Well-Made
The key organizer works exactly as advertised. The portion holding my keys has not budged and keeps them quietly tucked away. I was able to adjust the tightness to get my keys to swivel out just how I wanted. Jibbon has some nice guides on the best way to fit your keys which were helpful. Overall feels well-made and I'm very happy with my purchase! A couple suggestions that would make it perfect for me. I have all pretty standard or small keys which leaves quite a bit of leftover space inside the organizer. Having a smaller version would make it more compact for this type of setup and also settle more comfortably in the bottom of the pocket (especially when it lays flat). The other suggestion is an even more narrow case, but I think the bolt could be positioned just a little closer to the end to allow more of the key to stick out. Definitely hasn't been an issue for my regular keys, but it's just a little too far in to allow full access to the touch portion of my security key. Minor gripes with an otherwise excellent product.
17/09/2020
Nathan M.
United States
Quiet, Organized, Refined.
From a standard key ring, to a keysmart, to a Jibbon. The evolution of my key organization follows form, function, and quality.