Seamless Organisation
The Jibbon is a thoughtfully created, minimalistic key organiser that eliminates unnecessary bulk and protects your phone and other valuables. It encompasses your keys with high-quality Italian leather and is made to last.
Customer Reviews
30/06/2020
Michael P.
Australia
Exactly what I was looking for
If you're looking for something to organise your keys and stop them jingling in your pocket, this is a fantastic option. It looks and feels great, was super easy to set up and the build quality is immaculate. This is my first key organiser, but straight away I knew it was exactly what I was wanting and I'm really glad I went for this one over it's competitors.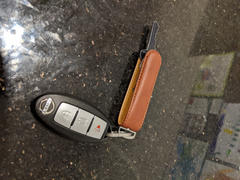 26/04/2020
Will
Australia
Great product
Best key organiser on the market. Would definitely recommend. Great quality leather and extremely easy to use.
25/04/2020
Aaron
Australia
Exceptional quality
I am beyond impressed with the quality and refinement that has gone into the planning and production of this key organiser. The quality of the leather is extraordinary. And the design of the tightening mechanism means it won't loosen overtime.
07/04/2020
Camila A.
Australia
Great product
I bought a similar key organiser with the competitor and I can guarantee the Jibbon product is of way better quality and design. Very happy with my new key organiser and would definitely recommend the product to others. Thanks Jibbon for providing a great customer experience and quality product
31/03/2020
Shirley
Hong Kong SAR China
28/03/2020
Conrad B.
United Kingdom
Best key organizer bar none
I purchased the Jibbon key organizer after seeing a review of it on Pack Hacker, I appreciated the thought and materials and craftsmanship evident in the review. After using mine for a few months I can honestly say that it is the best key organizer bar none. The details are what impress me the most about this product, from the materials used to the design of the the piece it all says quality. I particularly like the fact that it doesn't tighten or loosen allowing your keys to stay at the same friction and also that it will not rotate in your pocket due to the clever design of the key ring. I will not hesitate to recommend this product to my friends and family.
12/03/2020
Gavin G.
Ireland
Fantastic
Having tried a couple of other key organisers recently, I found I was constantly fiddling with and tightening them as they just tended to loosen over a short period of time. The really clever design of this one makes that a non issue. I'm very impressed with the idea and of the materials and craftsmanship. A great product. Genuinely.
28/02/2020
James D.
United States
Simply perfect
I've been looking for a key organizer for quite a while now, and this one caught my eye immediately. When it arrived, it was better than expected, easy to set up and feels great in hand. The design clean and elegant. I would highly recommend this product!
25/02/2020
Casey H.
United States
I absolutely LOVE this thing!
I had been using my keys on a standard key ring for years and while it functionally was fine, it got to be a pain trying to keep them under control in my front pocket of my jeans. I tried the KeyBar and while it's made incredibly well and functions as it should, the dual-key style made it pretty difficult to use quickly and the all-aluminum design was a bit too uncomfortable for me. After seeing my friend use his OrbitKey, I was going to get one but didn't really want a hard piece on the outside. Then I came across the Jibbon. I went with the black leather to match the rest of my EDC setup. Right away I loved the premium look & feel of the organizer. I love how the outside is a single piece of material and the simplicity is fantastically thought-out. I've been using it for almost three months now and I've not had a single issue with it. It's wearing great and I intend to use it for many years to come. Also the Jibbon customer service team is amazing and I'm really happy to be using a product from these guys. Highly recommend!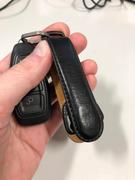 15/02/2020
Nathan D.
Australia
Best purchase
Easily the best key organizer I have ever bought. The quality is spectacular and the leather is so smooth and good. Definitely will buy again.