Seamless Organisation
The Jibbon is a thoughtfully created, minimalistic key organiser that eliminates unnecessary bulk and protects your phone and other valuables. It encompasses your keys with high-quality Italian leather and is made to last.
Customer Reviews
24/02/2020
Casey H.
United States
I absolutely LOVE this thing!
I had been using my keys on a standard key ring for years and while it functionally was fine, it got to be a pain trying to keep them under control in my front pocket of my jeans. I tried the KeyBar and while it's made incredibly well and functions as it should, the dual-key style made it pretty difficult to use quickly and the all-aluminum design was a bit too uncomfortable for me. After seeing my friend use his OrbitKey, I was going to get one but didn't really want a hard piece on the outside. Then I came across the Jibbon. I went with the black leather to match the rest of my EDC setup. Right away I loved the premium look & feel of the organizer. I love how the outside is a single piece of material and the simplicity is fantastically thought-out. I've been using it for almost three months now and I've not had a single issue with it. It's wearing great and I intend to use it for many years to come. Also the Jibbon customer service team is amazing and I'm really happy to be using a product from these guys. Highly recommend!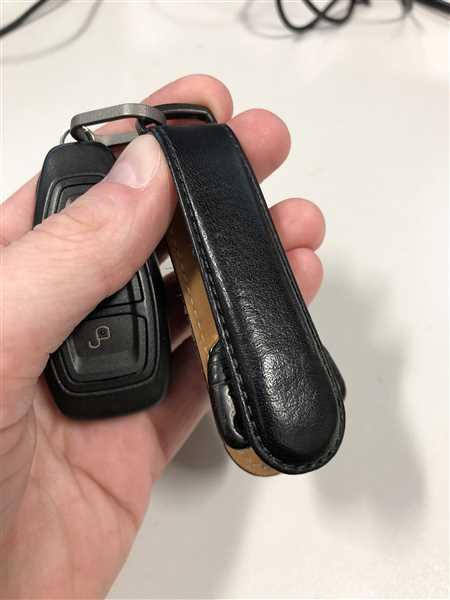 15/02/2020
Nathan D.
Australia
Best purchase
Easily the best key organizer I have ever bought. The quality is spectacular and the leather is so smooth and good. Definitely will buy again.
10/02/2020
Jan-Erik E.
Germany
Simple and ingenious
Just received mine. The leather quality is amazing. I wish jibbon would also offer watch straps etc. with this material. The design is simple but solved the main problem other competitors have. For me the best key Organizer out there ()
10/02/2020
祐貴 熊.
Japan
From Japan
This product is simple and beautiful. Since Japanese tend to have many keys, this product will be accepted by many young generations.
28/01/2020
Ricky H.
United Kingdom
Top Quality Item
Was looking for this particular key organiser, ordered a cheap one from amazon and it kept unscrewing and it was driving me nuts. Finally found Jibbon and they have fixed this issue. The quality of the leather is superb and craftsmanship is fantastic. Quick delivery to the UK as well. Definitely will be purchasing more products
02/01/2020
Maria S.
United Kingdom
Jibbon - the perfect gift
I ordered this as a gift for my brother in law who has great taste and likes things that are well designed, functional and beautiful. The jibbon ticks every box and I couldn't have been more impressed with the service received. As a result rest of the family want one so a few repeat orders. Shipping was incredibly fast from Australia and arrived Packaged well in a smart presentation box , thanks guys !
23/12/2019
Mike
United States
Best of its kind
This organizer has been fantastic. There are many that look similar and I never jumped on the bandwagon becuase I was wary about them coming unscrewed. When I randomly came across jibbon on indiegogo I saw it was something different and the mechanism was genius. Now that I have it in my hands it truly is a differentiator and is amazing in use. I showed my wife and she is asking why I didn't get her one so am ordering another one now!
21/12/2019
Mino
United States
Better Than Orbitkey!
This product is similar to the Key Organisers from Orbitkey, but with a few better features (imo, but ymmv). First, I like that there are no metal parts on the exterior of this organizer except for the external attachment portion at the end for car keys, fobs, etc. Orbitkey is close, but has the two exterior metal parts that are necessary for tightening or undoing the Key Organiser. This leads me to the second point, which is Jibbon's easier set-up process. It's so much easier to secure all the keys on one end of the Jibbon, tighten the bolt, & clip on the other end, compared to the clunky process with Orbitkey. Lastly, Jibbon did a great job coming up with a way to keep the external attachment portion in place at the top of the organiser. I didn't enjoy using Orbitkey as much because their external attachment would keep sliding out of place. On another note, their customer service is exceptional. My Kickstarter order somehow got misdelivered & never made it to my house. When I contacted Jibbon about this issue, they were very understanding about my situation & sent me another set of my order at no charge. I honestly didn't expect that level of customer service from an early Kickstarter funded company. Thank you so much, Jack!
21/12/2019
Rianto T.
Australia
Better than Orbitkey
Jibbon has completely bettered Orbitkey in all categories - quality of leather, ease of installation, no tools required, no metals outside, just one continuous piece of luxurious leather. And to top it all off, the titanium key ring is a great addition to the key organiser. I can now attach it to my belt loop.
18/12/2019
Patrick
United States
A huge upgrade over my previous key organizer
I used to have one of those other key organizers that did a similar thing with keeping the keys on a post and such. The Jibbon is a huge upgrade from what I was using before, which was basically the one with two posts that ******* together from either side. First off, this one won't unscrew itself over time. The design is genius. On more than one occasion, my previous key holder left me reaching into a pocket full of loose keys. Not something you want to do when you just want to enter your home. Second, the old key holder was limited in it's width selection. You just had to get close and accept the set width. With Jibbon, i can tighten the post down on the keys so they don't randomly free swing. Much quieter and neater in the pocket. It's also nice that I don't have to try and keep one side from rotating while tightening the post into place like other designs.